| | | |
| --- | --- | --- |
| | HelixCript™ Thermo Reverse Transcriptase | |
● First-strand cDNA synthesis
● Active at 42~55℃. Optimum at 50℃.
● RNaseH negative
● Superior performance in RT-PCR. Up to 12 kb or more
● High processivity and sensitivity
Description
HelixCript™ Thermo Reverse Transcriptase, a thermostable and RNase H negative variant of M-MLV RTase, can synthesize cDNAs from purified RNA templates at a temperature range of 42℃ ~ 55℃ and especially shows the highest activity at 50℃. At the escalated temperature, the cDNA synthesis is enhanced partially due to the less internal structural formation of the template RNA and increased polymerization activity of RTase. The high processivity and productivity of HelixCript™ Thermo Reverse Transcriptase allows this enzyme to amplify the high yield of product and can synthesize cDNA of target gene up to 12 kb from RNA template. This enzyme is quite suitable to synthesize the first-strand cDNA for RT-PCR of target gene. The cDNA synthesis from total RNA or poly-(A)+ RNA is performed by random primer, oligo-d(T) primer, or gene-specific primer.
Application
◎ Generation of first strand cDNA
◎ RT- PCR, Real-time PCR
◎ Primer extension analysis
◎ RNA sequencing
Contents
HelixCript™ Thermo Reverse Transcriptase (200 units/㎕)
5X Reaction Buffer
0.1 M DTT
10 mM dNTP Mix (each 10 mM)
Quality Control
HelixCript™ Thermo Reverse Transcriptase is evaluated by activity of cDNA synthesis corresponding to transcript of human gene using total RNA isolated from human blood according to size up to 12 kb at 50℃.
Data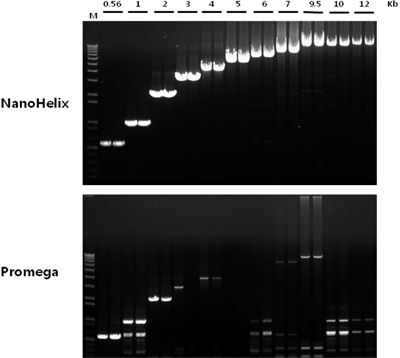 Figure 1.

Comparison of activity of

HelixCript™ Thermo Reverse Transcriptase with other brand by RT-PCR for human gene. Total RNAs were extracted from human blood. The first-strand cDNA s were synthesized using total 700 ng RNA, oligo-d(T) primer, 200U HelixCript™Thermo Reverse Transcriptase at 50℃ or 200U Promega's M-MLV RTase (Promega, USA) at 42℃. 10 % of cDNA reaction was used with primer set corresponding to fragment of human dynein gene and 2.5 U HelixAmp™ HyperSense-Taq DNA polymerase in 50 ul PCR reaction.

Cat.No.
Product
Size

RT10K

HelixCript™ Thermo Reverse Transcriptase (5x Reaction Buffer, 0.1 M DTT)

10,000 units

RT50K

HelixCript™ Thermo Reverse Transcriptase (5x Reaction Buffer, 0.1 M DTT)

50,000 units

RT10KN

HelixCript™ Thermo Reverse Transcriptase (5x Reaction Buffer, 0.1 M DTT, dNTPs)

10,000 units

RT50KN

HelixCript™ Thermo Reverse Transcriptase (5x Reaction Buffer, 0.1 M DTT, dNTPs)

50,000 units