| | | |
| --- | --- | --- |
| | HelixAmp™ Speed-Pfu Polymerase | PCR enzymes Selection Guide |
● Highest fidelity (15 ~ 20 times higher fidelity than Taq)
● Express speed. Fast PCR ( <30 sec/kb extension )
● Long-range PCR, up to 20kb from genomic DNA
● High productivity

Description
HelixAmp™ Speed-Pfu polymerase is an editorial enzyme improved from HelixAmp™ Power-Pfu polymerase. HelixAmp™ Speed-Pfu polymerase shows faster (4~6 times) polymerization reaction and higher fidelity (3~5 times) than any other high-fidelity enzymes. With this high speed and accuracy, HelixAmp™ Speed-Pfu polymerase is most suitable to faithful amplification of relatively long-ranged target for cloning etc. Due to its high speed, fast PCR with this enzyme could be completed in 30 min for the reliable amplification of less than 1 kb size target DNA. For the maximum performance of PCR reactions high-quality dNTP mixture is supplied. The addition of TuneUp™ solution in the reaction mixture is a simple way to optimize the difficult targets of PCR.
Application
◎ High fidelity PCR
◎ Long range PCR
◎ Site-directed mutagenesis
◎ Blunt end PCR cloning
Contents
HelixAmp™ Speed-Pfu polymerase (2.5 units/㎕)
10X Reaction buffer
dNTP mix (each 10 mM)
5X TuneUp™ solution
Quality Control
◎ Contamination assay for bacterial host DNA
◎ Activity assay
◎ Sensitivity assay
Storage buffer
50% Glycerol, 50mM Tris-HCl (pH8.0), 0.1mM EDTA, 1mM DTT, 0.1% Tween 20, 0.1% Nonidet P-40, 1mM PMSF
Data

Figure 1. The express speed of HelixAmp™ Speed-Pfu polymerase. Four different sizes of human gene fragments were amplified with various extension times. PCR reactions were carried out at 95℃, 10 sec and 68℃ for the represented extension time (30 cycles). This result indicates that only 20-23 sec is required for successful synthesis of 1kb size DNA. The total PCR time required for amplification of 1 kb fragment is less than 25 minutes.

Figure 2. A fast PCR with HelixAmp™ Speed-Pfu polymerase and other enzymes. 1 kb fragment of human DNA was amplified from various concentrations of template in a limited extension time, 20 sec. PCR reaction was carried out at 95℃, 10 sec and 68℃, 20 sec (35 cycles).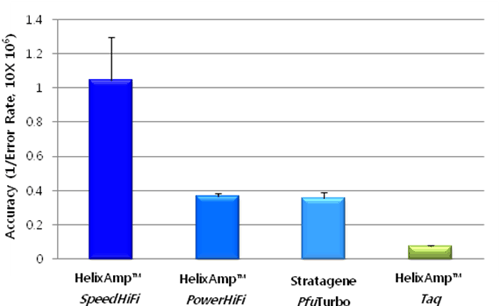 Figure 3. HelixAmp™ Speed-Pfu polymerase is the enzyme with the highest fidelity. Error Rate = mutation/bp/duplication

Cat.No.
Product
Size

S250

HelixAmp™ Speed-Pfu polymerase (including 10x Reaction Buffer)

250 units

S250N

HelixAmp™ Speed-Pfu polymerase
(including 10x Reaction Buffer, TuneUp™ solution, dNTP Mix)

250 units

S500

HelixAmp™ Speed-Pfu polymerase (including 10x Reaction Buffer)

500 units

S500N

HelixAmp™ Speed-Pfu polymerase
(including 10x Reaction Buffer, TuneUp™ solution, dNTP Mix)

500 units

S2500

HelixAmp™ Speed-Pfu polymerase (including 10x Reaction Buffer, Blue Box)

2,500 units

S2500N

HelixAmp™ Speed-Pfu polymerase
(including 10x Reaction Buffer, TuneUp™ solution, dNTP Mix, Blue Box)

2,500 units