| | | |
| --- | --- | --- |
| | HelixAmp™ Power-Pfu Polymerase (Ver. 2.0) | PCR enzymes Selection Guide |
● High fidelity and productivity
● PMT (Polymerase Modulator on Temperature) technology
● Broad range of annealing temperature
● Minimize the non-specific amplification
Description
HelixAmp™ Power-Pfu polymerase (ver. 2.0), originated from an extreme thermophile, is ideal for high-fidelity PCR amplification. Due to its intrinsic 3' to 5' exonuclease (proof-reading) activity, this DNA polymerase shows high-fidelity and produces blunt ended PCR products. NanoHleix's PMT(Polymerase modulator on temperature) technology" is applied in the buffer system, which is effective to reduce primer-dimer formation and non-specific amplification during the PCR.HelixAmp™ Power-Pfu polymerase (ver. 2.0)is an engineered enzyme showing much higher productivity and processivity than other proof-reading thermo-stable enzymes (e.g. Pfu DNA polymerase, Vent DNA polymerase etc.) without compromise to the fidelity. For the maximum performance of PCR reactions high-quality dNTP mixture is supplied. The addition of TuneUp™ solution in the reaction mixture is a simple way to optimize the difficult targets of PCR.
Application
◎ High fidelity PCR
◎ Site-directed mutagenesis
◎ Blunt end PCR cloning
Contents
◎ HelixAmp™ Power-Pfu polymerase (2.5 units/㎕)
◎ 10X Reaction buffer
◎ dNTP mix (each 10 mM)
◎ 5X TuneUp™ solution
Quality Control
◎ Contamination assay for bacterial host DNA
◎ Activity assay
◎ Sensitivity assay
◎ Protein purity analysis
Storage buffer
50% Glycerol, 50mM Tris-HCl (pH8.0), 0.1mM EDTA, 1mM DTT, 0.1% Tween 20, 0.1% Nonidet P-40, 1mM PMSF
Data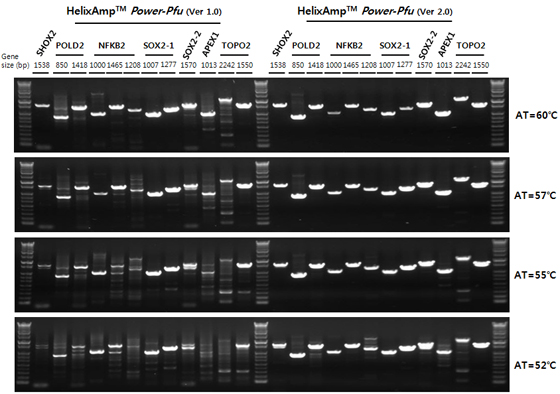 Figure 1. Various annealing temperature of HelixAmp™ Power-Pfu polymerase. 12 different primer sets designed from human genome were used in this PCR. PCR was performed using 10 ng of human genomic DNA under the various annealing temperature. AT = annealing temperature.
Figure
2. The fidelities of PCR enzymes. The fidelity of HelixAmp™ Power-Pfu polymerase
was compared with high fidelity enzymes from other companies and Taq polymerase
. Error rate = mutation/bp/duplication.

Cat.No.
Product
Size

P250

HelixAmp™ Power-Pfu polymerase (including 10x Reaction Buffer)

250 units

P250N

HelixAmp™ Power-Pfu polymerase
(including 10x Reaction Buffer, TuneUp™ solution, dNTP Mix)

250 units

P500

HelixAmp™ Power-Pfu polymerase (including 10x Reaction Buffer)

500 units

P500N

HelixAmp™ Power-Pfu polymerase
(including 10x Reaction Buffer, TuneUp™ solution, dNTP Mix)

500 units

P2500

HelixAmp™ Power-Pfu polymerase (including 10x Reaction Buffer, Blue Box)

2,500 units

P2500N

HelixAmp™ Power-Pfu polymerase
(including 10x Reaction Buffer, TuneUp™ solution, dNTP Mix, Blue Box)

2,500 units